On the road to a better life for all people
Share - WeChat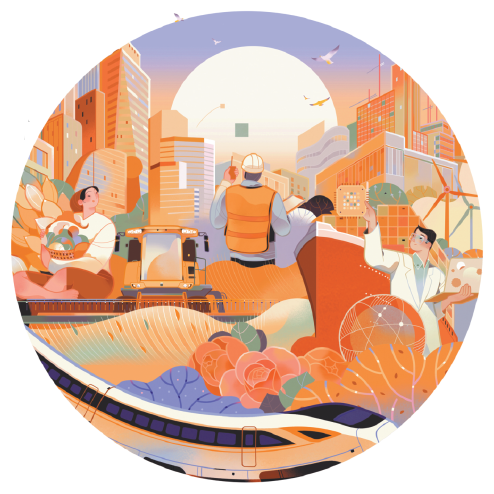 In China, people in remote and less-developed regions had been fighting against poverty for generations. Many of them longed for living a better life without having to leave their hometown. However, the real situation was far from satisfying until a few years ago. At the end of 2012, for example, about 99 million people in rural areas still lived in extreme poverty with an average annual income of less than 2,300 yuan ($333). A vast majority of them lived in remote mountainous areas or barren highlands with poor road connectivity.
With such a huge population living in abject poverty, China's determination to eradicate extreme poverty once and for all sounded like a fairy tale. Yet China made the dream come true at the end of 2020. In 2021, Xi Jinping, general secretary of the Communist Party of China Central Committee, declared that China had succeeded in creating history by eradicating absolute poverty in China.
Eradication of abject poverty a miracle
Due to the unswerving efforts of the Chinese people under the leadership of the Party, 98.99 million people in rural areas were lifted out of abject poverty, and all the 128,000 impoverished villages and 832 designated poor counties got rid of poverty. China has eradicated poverty across entire regions, creating a miracle in the history of poverty reduction and winning international praise for its immense contribution to the global cause of poverty eradication.
Moving stories of poverty alleviation now abound in every part of the country. In my village of Dawan, for example, which is located deep down in the Dabie Mountains on the borders of Anhui, Henan and Hubei provinces, the poverty eradication campaign has transformed life from extreme hardship to relative convenience mainly because of better road connectivity and the targeted poverty reduction program.
Only a few people knew about the village, and even fewer had visited it till a few years ago. Youngsters in the village chose to migrate to cities in search of a better life, with many of them never returning to the village, leaving the elderly behind struggling for survival.
Chen Zeshen, a man who had lived in a run-down house for most of his life in Dawan village, had suffered many misfortunes. About 10 years ago, Chen's only son died of a disease, and his daughter-in-law soon left the poverty-stricken family without even saying goodbye. The death of Chen's wife four years later was the last straw that broke his back. Since then, he had been living with his grandson in serious poverty, surviving on social assistance.
In 2016, with the implementation of the targeted poverty alleviation program, government officials, professionals and volunteers from all walks of life were sent to the village. Their mission was to help poor families like Chen's to overcome all difficulties in their pursuit of a better life.
Construction and other machinery were used to pave roads, dig ditches, build bridges and tunnels, and transport materials. Agricultural professionals helped draw plans to rejuvenate the fields and mountain slopes, introduced high-yielding grain crops and cash crops, taught new farming skills to the rural residents, even picked tea leaves and processed tea with the villagers. And financial institutions offered preferential small loans to villagers without mortgage to launch production projects, build new houses, and send youths to college.
Also, extra subsidies were given to guarantee every child had access to compulsory education, while doctors and other medical workers from cities took on rotation duty in the village to treat problematic illnesses and improve overall medical services. And the local government and business entities helped sell local products online as well as advertised tourist attractions.
All these measures have brought about tangible changes to the village, delivering remarkable benefits to the villagers. In May 2017, Chen moved into his new 70-square-meter house built by the government and got 90,000 yuan in compensation for his old house which was later used for tourism development. In 2019, Dawan village welcomed more than 300,000 tourists, and Chen's annual income exceeded 40,000 yuan. He not only raises cattle and sheep, grows tea and medicinal herbs, but also sells local specialties such as homemade green tea to the tourists.
In 2020, his grandson completed college education with a preferential loan granted by the government, and got a good job. The old man said: "I have been dreaming all my life. When I was young, dreams were beautiful but unreal, in my middle age, dreams were nightmares, but now, life is like a dream, better than I could ever imagine. I am proud and lucky to be a part and a beneficiary of the poverty eradication campaign led by the great CPC."
One of millions of success stories
Chen's is just one of the many millions of success stories of poverty reduction. Millions of dreamers have been living lives better than they could have ever dreamed of. The Party is indeed the most important contributor to the realization of their dreams.
It is important to remember the strenuous process through which the Party has led the Chinese people in the battle against poverty. In the new era, the CPC Central Committee, with Comrade Xi Jinping as the core, has attached great importance to poverty eradication, and mobilized the whole Party, the whole country, and all sectors of society to win the battle against poverty.
President Xi put poverty alleviation at the top of his work agenda and devoted much of his energy to it. For example, soon after the 18th CPC National Congress in 2012, he asserted that to achieve initial prosperity in the countryside, it is essential to raise rural living standards, particularly of those of impoverished villagers.
He also emphasized that no single poor area or single poor person should be left behind in achieving this goal. In 2017, in the report to the 19th CPC National Congress, Xi said that ensuring that poor people and poor areas enter the moderately prosperous society together with the rest of the country is a solemn promise made by our Party, and that we must win the battle against poverty.
In 2020, faced with the sudden outbreak of the COVID-19 pandemic, Xi emphasized that lifting poor people in the rural areas out of poverty must be achieved as scheduled. Without President Xi's strong leadership, the dream of eradicating abject poverty might have remained just a dream.
The strategy and measures of targeted poverty alleviation that China has explored and implemented have drawn the attention of the international community. As a result, more and more countries are eager to learn from China's experiences.
For instance, Bounnhang Vorachith, former Laos leader, once visited Shibadong village in Hunan province and Ningde in Fujian province to study China's successful poverty alleviation program.
China has always linked its future with that of the rest of the world. While being committed to eradicating poverty in the country, China has actively participated in international cooperation on poverty alleviation, acted as an advocate, facilitator and contributor to the international cause of poverty alleviation, and worked with other countries to build a global community of shared future that is free from poverty and pursues common prosperity. China is ready to share its experiences with other countries to help people all over the world lead a better life. And that best reflects China's global vision.
The author is an observer on international affairs.
The views don't necessarily reflect those of China Daily.
If you have a specific expertise, or would like to share your thought about our stories, then send us your writings at opinion@chinadaily.com.cn, and comment@chinadaily.com.cn.
Most Viewed in 24 Hours
China Views