Visually impaired delegate has inclusive vision for country
Share - WeChat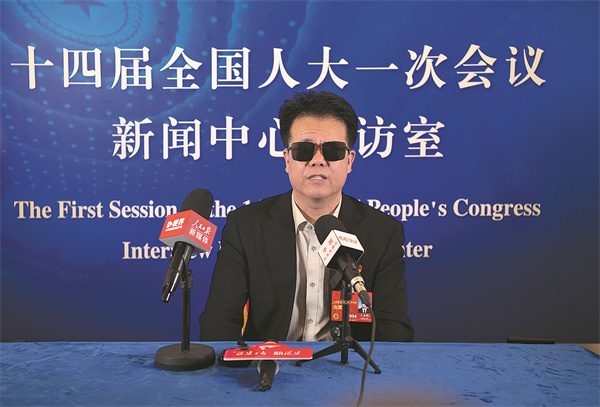 Due to visual impairment, Wang Yongcheng cannot see the magnificent interior of the Great Hall of the People in Beijing, but that does not stop him from navigating the gargantuan building to pursue his ambitions.
A newly elected deputy to the National People's Congress, China's top legislature, Wang is working to represent China's 85 million people with disabilities during the country's most important legislative and democratic event.
"My mission is to amplify the voices of people with disabilities, and make suggestions to help resolve their issues," says Wang, also vice-chairman of the China Association of the Blind.
The "two sessions" are the annual meetings of the national legislature and the National Committee of the Chinese People's Political Consultative Conference, the country's top political advisory body. The event has gathered thousands of national legislators and political advisers to review government reports and other legal documents, and discuss issues of public interest.
Wang has brought two suggestions to this year's NPC gathering, including one on the licensing of blind masseurs and their clinics.
China has issued licenses to tens of thousands of people with partial or full sight impairment to recognize their "medical masseur" profession as a way of improving their incomes. After research among practitioners, Wang found that in reality, these licenses are often unrecognized by the country's medical system, leading to difficulties in the registration of many such massage parlors.
Wang thus proposed the reform of the digital registration system for blind masseurs and clinics to the National Health Commission and other relevant agencies.
"Resolving their job registration issues can help more people with visual impairments secure stable jobs, thus consolidating their gains in the battle against poverty," he said in a speech during an NPC group discussion.
Wang's second suggestion concerns the provision of large-font textbooks for students with visual impairment who are enrolled in regular schools.
The lawmaker says discussions with other deputies and officials, who sat in at the event, had helped him improve his proposals. "The NHC officials have brought back my suggestion on blind masseurs, and I have exchanged contact information with the NPC organizers so that they can brief me on the handling of my proposal regularly," he says.
Most Popular